In the Christmas weekend, there were only two films have released. Now, four more films are set to be released on December 29th, 2017. Sivakarthikeyan's Velaikaran and Santhanam's Sakka Podu Podu Raja are the two films released in a grand manner across Tamil Nadu.
The production company promoted this film in an innovative way with many short promos on all Television channels frequently in first three days. Also, they used the Google's YouTube by their advertisement. Now, they releasing the official short videos from film consecutively to push the film for few more days.
Here again, the New Year also falling on Monday, four more Tamil films are ready to hit the screen by using this another long holiday. Jai's Balloon, Prabhu Deva's Kalavaadiya Pozhuthugal, Dinesh's Sangu Chakkaram, and Ulkuthu are the four new Tamil films will be released on 29th December 2017. So, there are two horrors, one romantic, and a drama film listed to release.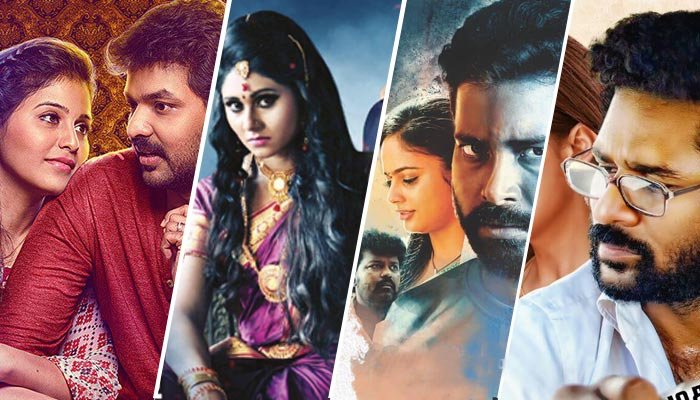 Balloon: Horror thriller film which is written and directed by Sinish and bank rolled by three people; Dhilip Subbarayan, Arun Balaji, and Nandakumar. The film starring by Jai, Anjali and Janani Iyer in the leading roles. Yuvan Shankar Raja is the music director. Jai's dual role will be notable as per the source.
Sangu Chakkaram: Fantasy Horror Comedy film which is written and directed by Maarison. The famous stunt master Dhilip Subbarayan, Gheetha, N.Raja, Pradeep, Jeremy Roske, Nishesh, Monicka, Abinethra, Swaksha, Krithik, Adarsh, Bala, Aditya, Tejo, and Ajeesh are featured in this film. Shabir composed the music of this film.
Ulkuthu: Caarthick Raju's directional Drama has produced by J. Selva Kumar. Dinesh and Nandita Swetha are played in the leading roles. Bala Saravanan played in the character of Dinesh's friend as a supporting role. Justin Prabhakaran is the music director.
Kalavaadiya Pozhuthugal: After seven years of delay, director Thangar Bachan's Romantic film set to release on this year-end which was produced by K. Karunamoorthy and C. Arunpandian. Prabhu Deva and Bhumika Chawla are in the lead roles. Sathyaraj, Prakash Raj, Ganja Karuppu, and Sathyan are in the supporting roles.
Book your show at your nearest theater. Balloon is the pure horror which may be liked by youngsters as more. Sangu Chakkaram for family and children though it is the horror, the makers said that it will be good feel fantasy horror. Ulkuthu will be a year-end masala drama film, mostly for all south Tamil Nadu people. Kalavaadiya Pozhuthugal is the old but new arrival to the screen, it is for all lovers.