Popularity Takes a Toll as Mugen's Probability of Elimination. This week's poll result shows that nor Abhirami or Madhumita would be out. Rather, Mugen Rao could be shown the door from Kamal Hassan's show Bigg Boss Tamil 3. After his popularity in the show, his repetitive outbursts may lead to elimination from the show, which may be a heavy price for him.
Apart from that, he is the favorite contestant of the Bigg Boss Tamil 3 show and had gained a lot of popularities in earlier weeks. But from the last few weeks, he has been losing his cool to heated arguments with Abhirami Venkatachalam, who was expected to get eliminated out of the Bigg Boss Tamil 3 house.
Moreover, there has been a sudden fall that's seen in his popularity since the argument.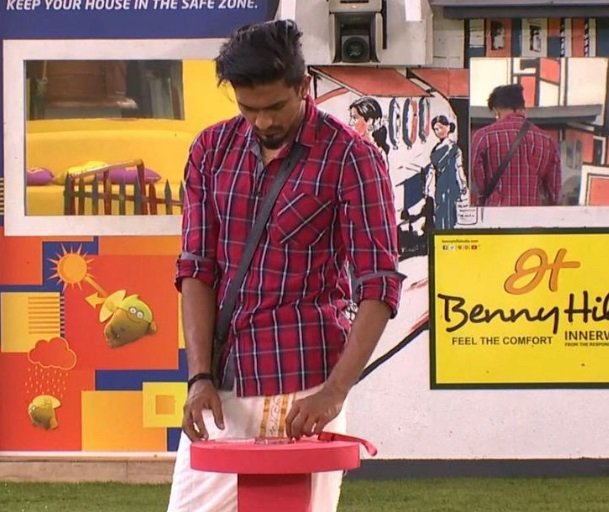 What does the Poll say?
At the recent polls conducted in the recent week's elimination, most eviction votes by International Business Times were received by Mugen. About 27.94 percent of votes were counted from readers. In the first week, vote counts were little less but gradually people's perception changed towards Mugen within hours when he threw the chair during the argument between him and Abhirami.
Madhumitha who has recently been catching the limelight in the last two episodes with the high arguments with the boy gang has bagged 20.34 percent of votes.  Whereas 19.12 percent of viewers wanted to see Abhirami's eviction in the house which is less compared to Madhumitha. While Losliya and Kavin have got 16.33 and 16.26 percent of votes respectively from the people for eviction.
After analyzing the votes. We can easily see the tough competition going on between all the five contestants. Over a week of elimination, the votes have been divided among the contestants. As per the poll results, the highest percentage of votes is for Mugen Rao so there is a higher probability of him being evicted.
But Abhirami, Losliya, and Kavin have also the equal chance of getting evicted too from Kamal Hassan's house. In the survey, it was seen Abhirami is constantly failing in the ways to entertain the viewers.  In the early week itself, Losliya has been able to win the hearts of so many people, especially the young viewers of Bigg Boss Tamil 3. But, Losliya too failed to take the stand constantly and lost the fan base created in the first week of popularity.
Bigg Boss Tamil 3 season has faced many crucial issues within its sets and few failed to firm their stand the show. Losliya faced losses a lot of extent after teaming up with Kavin. Probably her in the decision for teaming up backfired herself. Apart from that, Kavin too the has behaved very abruptly this week with Kasturi which was quite disturbing.