Sreesanth Proceeds to Finish off his 100 Test Wickets. The ban on S. Sreesanth was reduced by BCCI to seven years, hours after he shared his thoughts of playing for India till 100 Test Wickets, in the case, if he gets a chance in the future. The Supreme Court had asked the Board of Control for Cricket in India (BCCI) Ombudsman Justice (retd) D.K Jain to plan on the pace of punishment for the Cricketer for his forceful involvement in the match-fixing scam on the spot scandal in the year 2013 of Indian Premier League.
As per the decision made on Tuesday by D.K Jain, the punishment for the cricketer Sreesanth was reduced to seven years. The ban on him would be ending by the September 12, the year 2020, which will be earlier than his originally given punishment.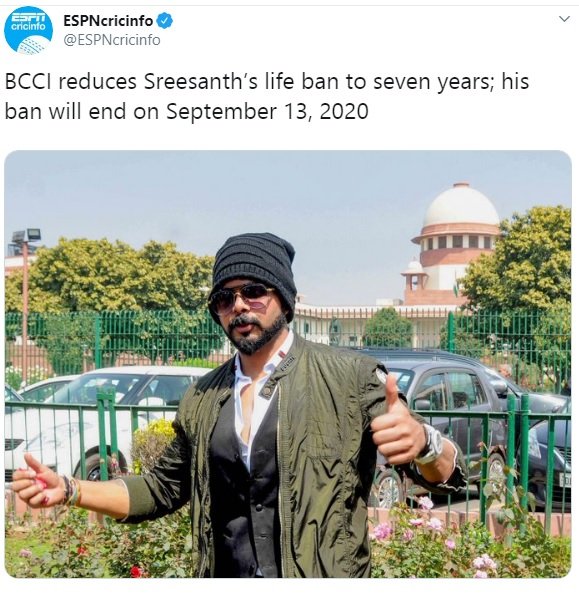 Moreover, on the imposed ban on him, Chetan Chauhan made a statement that BCCI doesn't work in any case with personal grudges and hence, the given punishment was fairly imposed on Sreesanth at that time.
Sreesanth has already served six years term on the ban. He got involved in the IPL match-fixing scandal for Rajasthan Royals Team along with two of his teammates in the year 2013.
Sreesanth's Reaction
Sreesanth was extremely happy hearing this news by BCCI about his shortened life ban. He was thankful to all his well-wishers, close fans and his family for praying every time for him to get out of the ban soon. He is now happier to hear it that he will be able to get the chance to play for India.
He says, he is 36 now and, next year will turn to 37. He has 87 test wickets and will pursue to complete 100 test wickets. Sreesanth is confident enough to return in the Indian Test Match team and play till 100 test wickets, which is great news, especially for his supporters and fans. It was his dream to complete up to 100 test wickets and in the future, he wants to be playing under Virat Kohli's team.
For Sreesanth, although, he got alleged in this scam, as a cricketer, he was a fast bowler in his earlier days. But being in his early thirties now, he might not be able to perform as a fast bowler.
In Jain's view, banning Sreesanth to seven years from participating in any kind of sports activities or to indulge in any disciplinary actions during this period was a justified punishment for him. The ban was imposed by the disciplinary committee will end his punishment period in 2020.
Sreesanth is from Kerala, and he is the second Keralite cricketer to represent India. In his short career, this player has played 27 test matches, taking 87 wickets.  Sreesanth has taken 75 wickets from fifty-three One day international matches (ODIs). And seven wickets from 10 wenty20 International matches(T20Is).