It is a known fact that India is not a part of Supergroup and that's why India doesn't attend the G7 summit. G7 summit this time is happening on Monday in France and although India is not a part of the Supergroup, Emmanuel Macron, the president of France has invited our honorable PM Narendra Modi to the summit as a special guest.
The countries which are a part of the G7 summit are the United Kingdom, Canada, France, Germany, Italy, Japan, and the United States. Ministry of external affairs made it clear that this special invitation is a reflection of the good relations, which prime minister Narendra Modi has established over the past few years.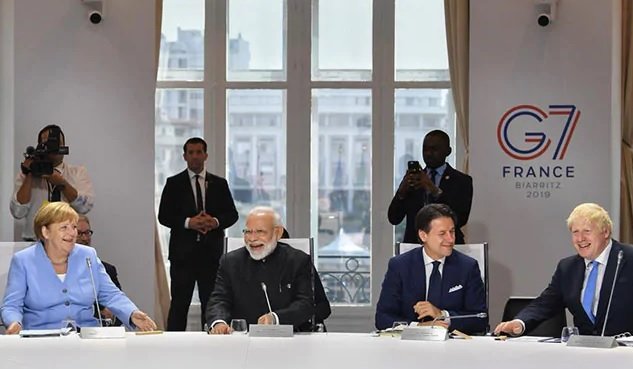 Along with the personal chemistry, the recognition of India as a major economic power is another reason why India is going to be part of this G7 summit.
An overview of the Narendra Modi's Activities
Very recently honorable prime minister held a meeting with General Antonio Guterres the secretary of the United Nations and along with this, he is also expected to hold a meeting with President Donald Trump. Both of these activities were decided by keeping in mind the current relation of India and the United States. The meeting was proved to be fruitful as there were discussions of many major issues keeping the G7 in the sideline.
Apart from the major bilateral issues and trade, the meeting is expected to have a discussion surrounding a variety of topics like the issue of Kashmir and its current status and also the removal of some provisions from the Indian state.
Prime minister Modi also met the prime minister of UK Boris Johnson as a sideline to the G7 summit. Both leaders shared their views on ways to make a relation between both countries better. Narendra Modi also congratulated Boris Johnson on England's win in three third test of Ashes.
Two ways which were figured out as the factors to make the relationship between India & the UK stronger were trade and economic relations. This thing was discussed earlier on the phone.
The Kashmir Issue
It is not a known fact that Kashmir is a "bilateral" issue and that president Donald Trump has been repeatedly insisting on being a mediator between India and Pakistan in the whole issue as informed by a senior US administration official.
The official statement said, "India's decision to rescind Article 370 in Kashmir is an internal decision, but certainly with regional implications. And President Trump will likely want to hear how Prime Minister Modi intends to calm regional tensions in light of this significant move."
The official also shared his word in the issue of Kashmir that of reducing stress by cutting the restrictions imposed in the valley and by dealing with the terrorism in the valley. The US seems to be satisfied with India's decision on the removal of article 370 from Kashmir so that several big issues including terrorism can be addressed.