For the T20I series against South Africa, Hardik Pandya makes a comeback to the Indian Cricket team and replaces Bhuvneshwar, after the match with West Indies. As per the report, even M.S Dhoni was removed from the T20I Series due to his break being spent on the territorial army for almost 15 days.
The match for the T20I series is being scheduled at Dharamsala on 15 September. As the squad of 15 members was announced on Thursday, Hardik Pandya was the change seen, who is included for the three-match T20 series against South Africa. While Mahendra Singh Dhoni was excluded from the Indian Team for this series.
Following three places will be hosting these three T20 International matches; Dharamsala on September 15, Mohali on September 18 and in Bengaluru in 22nd September.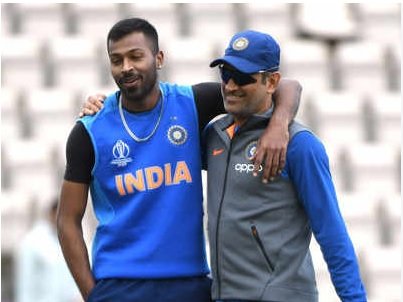 And Dhoni, being served the Territorial Army for a total 15 days is currently on vacation in the United States after, taking a break from the sport. But it is still unsure of, if the selectors had a conversation with him, for his availability regarding the home series to be played against South Africa.
Though strictly following the deadline date of squad selection for the West Indies tour which was on 21st July, but Dhoni's self -take a pause from the matches is to end on 21st September. The day when his self -taken break ends is the day before the T20 International Final against Proteas.
According to the current selection committee headed by MSK Prasad, wants to move ahead by selecting new and deserved ones. From the sources, it was stated that Dhoni is not in their "Scheme of Things".
Further, they added that they won't question Dhoni regarding his voluntary retirement from the matches and also stated that it isn't their job to question him. But till the time they are the in-charge of selectors committee, they have the right to select the squad. A senior BCCI official says that currently, Rishabh Pant is India's first-choice keeper.
With 22 T20I matches being due before the next T20 World Cup in Australia, the selector's committee wants to implement future plans for the next selection panel. This plan would give an idea to the next selection panel as whom to given charges after the BCCI Elections.
The three choices are Rishabh Pant, Sanju Samson and Ishan Kishan to be taken as white-ball keepers as reported by an official. As uncertainty prevails whether Dhoni will play the Syed Mushtaq Ali Trophy for Jharkhand or not, it will make sure his stay for one more year to play the Indian Premier League for Chennai Super Kings.
The chief coach Ravi Shastri pointed recently that only three-four players from ODI Squad are curtained for shorter formats. Cpt. Virat Kohli, Hardik, and Rohit could be those quartets. The T20 set comprises Krunal, Chahar brothers, seamer Deepak, leg-spinner Rahul, finger-spinner Washington Sundar, tearaway quicks Navadeep and Khaleel all the all part of it.
What other changes could be seen?
Some modifications would be made for the team later on, as it progresses. And some like, Rishabh and Bumrah won't be playing T20 due to their hectic workload, as pointed crucial by Virat. Samson may get added up in place of Pant. Ishan is there too. While Pant's workload needs management as Sanju's batting is best paired with him.
The Mumbai all-rounder Shivam Dube, a terrific hitter too is expected on the radar if he improves his balling skills. If Hardik is somehow not around, Vijay Shankar is sure to replace him. Furthermore, right-arm spinner Rahul is the perfect one for Mumbai Indians, as compared to Yuzvendra Chahal. Rahul is the better baller for the team, of course.