Anna University TNEA 2017: Anna University has started Tamil Nadu Engineering Admission process already from 1st May and the students can apply for Engineering till 31st May for TNEA 2017 admission. There are more than 1.5 lakh students will be admitted for Engineering every year based on their marks and other criteria via Anna University counselling.
Engineering is the most popular course everywhere in India. In Tamil Nadu, more than 500 colleges are offering Engineering courses in 30+ disciplines covering Engineering and the technology. Based on the cut-off marks students scored in their HSC 12th exam, they will get colleges and courses.
Anna Univ TNEA 2017 Admission Process
The Students can get courses and colleges based on their 12th result. After applying for TNEA counselling, students will receive a call letter with date and time of counselling in which they are allowed to select college and only available courses at that time can be chosen.
The students should register as fast as possible in their official website to avoid last minute heavy traffic on the website which makes the process little complicated due to the server overload issues.
TNEA Application Form Fee,
General- Rs 500
SC/ST/SCA- Rs 250
Along with this, Amount of Rs.5000 DD (Demand Draft) needs to be submitted with the relevant documents. This Rs.5000 cash will be added to your college fee later.
Students can either apply for TNEA Counselling via offline application form or Online. for online registration, create an account on the official website and log in to your account, fill your application form, check all the details, make your online payment, download the application and post it.
It is not at all a complicated process, once you fill the application form, all the steps will be given on their website on what to do next and how to proceed after filling the application form.
Documents required while applying for Engineering counselling are,
10th Mark sheet
12th Mark sheet
TC
Community Certificate
12th Hall Ticket
Nativity Certificate
Special reservation or Sri Lankan Tamil Refugee certificate (If Applicable)
Note: Only you need to send photocopy (xerox) of all these requirements. Always keep your original certificates in a file safely, you never need to take out them unless officials asked you to show them in the counselling hall. But mostly, they won't.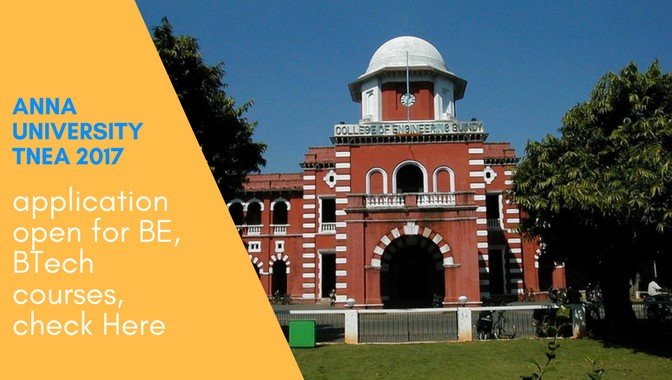 TNEA 2017 Anna University and Affiliated College Available Courses
There are more than 30+ disciplines are offered in Tamil Nadu colleges. The most popular courses to select from the list of available Undergraduate courses are,
Department of Civil Engineering (CEG):
B.E Civil Engineering
B.E Geo Informatics
B.E Agricultural and Irrigation Engineering
Department of Mechanical Engineering:
B.E Mechanical Engineering
B.E Material and Science Engineering
Other courses – B.E Mining Engineering, B.E Printing Technology, B.E Manufacturing Engineering, B.E Industrial Engineering, B.E Aeronautical Engineering, B.E Automobile Engineering, B.E Production Engineering.
Department of Electrical Engineering:
B.E Electrical and Electronics Engineering
B.E Electronics and Instrumentation Engineering
Department of IT & Communication engineering:
B.E Electronics and Communication Engineering
B.E Biomedical Engineering
B.E Computer Science and Engineering
B.E Information Technology
B.Tech Computer Science and Engineering
B.Tech Information Technology
B.E Electronics and Communication Engineering
Department of Science and Humanities:
Technology:
B.Tech Chemical Engineering
B.Tech Ceramic Technology
B.Tech Textil Technology
B.Tech Industrial Bio-Technology
B.Tech Food Technology
B.Tech Pharmaceutical Technology
B.Tech Rubber and Plastic Technology
B.Tech Leather Technology
B.Tech Petroleum Engineering Technology
 TNEA 2017 Minimum Marks Eligibility based on the Reservation
General- Minimum of 50 per cent in class 12 HSC exams.
BC/BC Muslim- Minimum of 45 per cent in class 12 HSC exams.
MBC/DNC/SC/ST- Minimum of 40 per cent in class 12 HSC exams.
Stay tuned for more updates on TNEA 2017 Top colleges, cut-off marks and other details which will be updated soon.