Bahubali (aka) Baahubali 2 Full Movie Reviews, Story, ratings, Twitter Updates: The most awaited Bahubali 2 (aka) Baahubali 2: The Conclusion by SS Rajamouli successfully released worldwide. Baahubali The Beginning, which created and trended a single question "Why Kattappa killed Baahubali" was the talk in the world cinema after the release which gave a huge temptation to the Baahubali 2 The Conclusion. Why Kattappa killed Baahubali was finally revealed in the movie in the second half. The movie is getting a very good response from the different parts of the world, check out the complete review of Baahubali 2 The Conclusion movie below.
Baahubali 2 movie is directed by Rajamouli, produced by Shobu Yarlagadda, Prasad Devineni, Music by Keeravani and Starring – Prabhas, Anushka Shetty, Rana Daggubati, Sathyaraj, Ramya Krishnan and Tamannaah in a leading role. The movie released worldwide on 28th April and 27th April in some countries. Since the Baahubali The beginning created a buzz when it was released, the second part of the movie got huge expectations.
Baahubali 2: The Conclusion Story: (Bahubali 2 Story)
What is the run time, Baahubali 2 movie Duration? 170 minutes, close to 3 hours.
Baahubali 2 – First Half in Short: Sivagami introduces us to the film and she prays to God for the life of his son, Mahendra  Baahubali. OKa Pranam theme song starts. The film introduces Baahubali with Maha Ganapati chariot and elephant. Superb artwork is employed. Kattappa shows his intelligence and loyalty to Sivagami in a scene. Rana and Nasser enter the screen before Prabhas has a dialogue. Saahore Baahubali Song Visuals are stunning. The gorgeous Devasena, Anushka makes a grand entry. Huge cheer from the crowd. The Kuntala Kingdom is showcased beautifully in this sequence. Visuals Superb and Sets creation Marvellous. Subba Raju Character as Kumara Varma made.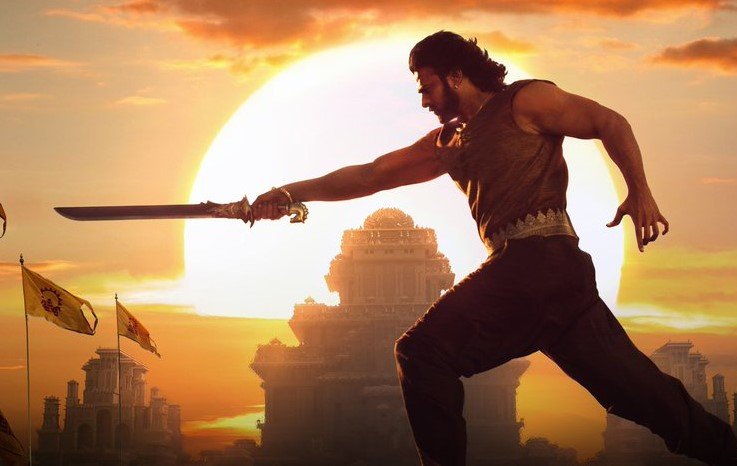 Some Comedy Scenes going between katappa, Baahubali, Anushka & Subbaraju. Audience smiling with funny faces. Kanna Nidurinchura Song. Anushka (Devasena) Sings for Lord Krishna. Beautiful graphics and Sets being showcased. Interesting Scenes Between Rana and Ramya Krishna (Sivagami). The drama Intensifies. Deva Sena's letter to Sivagami is adhurs. The episode where Baahubali and Deva Sena battle it out in unison is terrific. Amarendra Baahubali rises to occasion at the right time. The romantic track comes alive in a graphics-heavy song. The ultimate face-off. All important characters are under one roof. Keeravani's BGM spells varied emotions.
Check out Baahubali 2 Leak: Images of Bahubali getting shared Virally
Interval scene turns out to be the best episode of the first half. 'Mahishmathi, oopiri peelchuko' – the interval bang reads.
1st Half Report: The Mind Blowing Performance till Now and Rajamouli takes the film to a higher level than baahubali Part -1. Mind blowing Interval scenes. Prabhas, Rana, Ramya Krishna Are important assets in first half. Interval block is Epic (Superb). 'Mahishmathi, oopiri peelchuko' – the interval Title.
Baahubali 2 – Second Half in Short: The 2nd Half Begins with Family Drama between Anushka, Rana & Prabhas. Heart Touching Scene with Dandalayya song. Finally, Why Katappa Killed Baahubali was revealed in the second half, 15 minutes after the interval. The Suspense Twist Reveled and we are not revealing here. because of its toughest. Everyone should watch in the theater.
Time of War Sequence. i.e Katappa kills baahubali. Every Audience is in dead silent part. It's very Heart touching and intensifies. A crucial conversation between Kattappa and Sivagami. Ramya Krishna's performance is impeccable. Anushka raises the bar with her emotional performance. Shivagami Announces that Mahendra baahubali is Next King and Story back to Baahubali 1. Now Shivudu (Baahubali) Takes with his soldiers and people went to Ballaladeva Empire and Big War Scenes Going on. With Mahendra Bahubali killing Bhallaladeva story of Baahubali Part 2 (The Conclusion) comes to an end. The second half is totally story based and a high octane climax!
Movie Completed with Balladeva killing.
Baahubali The Conclusion Movie Review, Highlights & Verdict
First Half VFX is not up to the level. The second half story is little heavy. Baahubali 2 story is much interesting than Baahubali 1. Every character has its own qualities and significance in the big budget film. Actor Prabhas dedicated 5 years to his life just to this franchise.
The budget of the second part was increased later. Baahubali 2: The Conclusion has made a business of ₹500 crore (5 billion) before release. Baahubali 2 makes you proud that an Indian filmmaker dared to dream big and accomplished it. Call it a box-office blockbuster today, but tomorrow, it will be remembered as a classic.
The cast of Baahubali 2 is "just perfect with every actor doing a brilliant job in their respective roles." He praises the supporting cast members Nasser and Satyaraj as Bijjaladeva and Kattappa.
Baahubali 2 Review, Rating & Twitter Live Audience Updates
Cover365 Ratings for Baahubali 2: 4.5/5
#Bahubali Love,suspense,comedy,action,war,vengence,graphics,cgi,visual effects ,what not! Thank u @ssrajamouli @BaahubaliMovie @PrabhasRaju

— sampath kumar (@sampathrocks) April 27, 2017
@moviebuff_hyd @cinema_babu Disaster climax, very poor vfx and hilarious action sequences. Hindi audience are laughing when baahubali uses thati chettu as a bow

— RR1982 (@rajamddvl) April 27, 2017
@BaahubaliMovie it's a mind blowing conclusion finally got my answer why Katappa killed Bahubali

Great work by Baahubali team ????
.

— Anand Tiwary (@anandtiwary49) April 27, 2017
Conclusion concluded in way that it's a beginning for the era of BAAHUBALI. @ssrajamouli

— Madhan Mohan (@IamMadhanMohan) April 27, 2017
First day.
First show confirm.
I'll tell you first why kattappa killed #Baahubali #BaahubaliTheConclusion #Baahubali2Mania pic.twitter.com/m2DXJCmAWs

— Ibad Ahmad (@RealIbad) April 27, 2017
Watch Baahubali 2 Trailer
Watch Baahubali 2 Trailer one last time before going to watch the movie today.
The second part is going to give a lot of goosebumps. It's spectacular to see, how beautifully the camera captured different scenes. Sometimes, you will find it hard to figure out how these guys did the shooting of all this. Overall one could say that the story drafted in much better way than of the first version.
Stay tuned for Baahubali 2 Box office collections and other updates on Cover365.