Best Tamil Movies in 2017: When we looking into the aspects of hits films in Tamil Nadu, there are few big movies on the list. In 2017, the Tamil Cinema gave again over 200 films for the fourth consecutive year including the films yet to release on this weekend.
Top five super hits films in the Tamil Nadu are SS Rajamouli's Baahubali 2, Vijay-Atlee's Mersal, Pushkar-Gayathri's Vikram Vedha, Karthi's Theeran Adhigaaram Ondru, and KV Anand's Kavan.
Apart from this, there are other five films in the row of the hit list. The debut director Hip-hop Tamizha's Meesaya Murukku, Siddharth's Aval, Gautham Karthik's Hara Hara Mahadevaki, Lokesh Kanagaraj's Maanagaram and Arun Vijay's Kuttram 23.
Now, here we go with the list of Best Tamil Movies in 2017. They are: Aram, Aruvi, Aval, Maragatha Naanayam, Sathya, Thupparivaalan, Kurangu Bommai, Oru Kidayin Karunai Manu, Maanagaram, Maayavan, Theeran Adhigaaram Ondru, Meyaadha Maan, Mersal, One Heart: The AR Rahman Concert Film, Taramani, Nibunan, Vikram Vedha, Pandigai, Ivan Thanthiran, and Rangoon.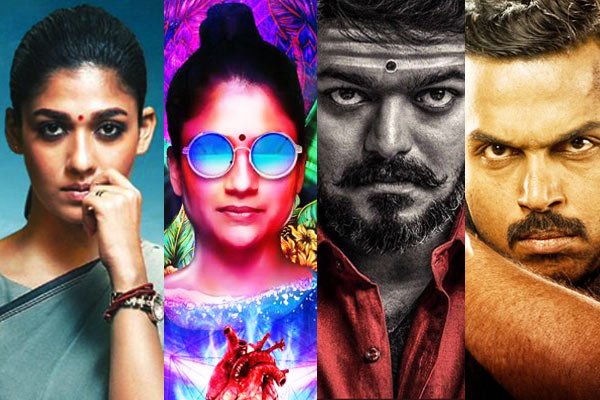 1. Aruvi (2017): A superb drama centred around a unique character that unfolds as a thriller with some black comedy, an awareness movie, and a tragedy.
2. Kurangu Bommai (2017): A strong contender of the year which all highlights the screenplay of the story.
3. Oru Kidayin Karunai Manu (2017): Tamil cinema's answer to Thithi, last year's Kannada arthouse hit.
4. Maanagaram (2017): The technical crew worked more for the screenplay and story of this film.
5. Maayavan (2017): One of the best things about Maayavan is how it manages to keep us guessing until it reveals the killer and his modus operandi.
6. Sathya (2017): Remake film, though it is an engrossing watch which joins the list of interesting thriller films made in Tamil this year.
7. Theeran Adhigaaram Ondru (2017): Vinoth's detailing story marks at top of the list than other cop films in Tamil so far.
8. Aramm (2017): Nayanthara's strongest solo film of this year as a mass heroin, and this, she does in style.
9. Aval (2017): Well-made horror flicks in Kollywood in 2017 in the huge crowd of horror films.
10. Meyaadha Maan (2017): A youngster boy and girl love in a different way, also explaining the relationship between the friends.
11. Mersal (2017): A mass masala movie of the year.
12. Thupparivaalan (2017): Mysskin's triumph film showing both thrills and good feel.
13. One Heart: The AR Rahman Concert Film (2017): As a first-of-its-kind concert film from India, One Heart works, because, ultimately, it is all about the music!
14. Taramani (2017): Apart from narrating the stories of a few characters, Taramani also attempts to remind people about how life should be lived.
15. Nibunan (2017): Nibunan is a thriller loaded with suspense, mystery, serial murders, sentiments and more.
16. Vikram Vedha (2017): A playful action film with more intrigue and less intensity.
17. Pandigai (2017): A low-level hotel worker gets involved in a street fighting racket on the advice of a compulsive gambler. When the duo realise they have been duped by the gangster controlling the racket, they decided to rob him…
18. Ivan Thanthiran (2017): Director has deftly handled a subject line often used in Tamil cinema rather innovatively.
19. Maragatha Nanayam (2017): Maragatha Nanayam does take some time to set up its characters, but once the plot kicks in, the film starts to entertain, handsomely.
20. Rangoon (2017): The casting, interesting screenplay with twists and turns at the right time makes the film impressive.