With a smile on her face, Abhirami Venkatachalam bids Adieu to Bigg Boss Tamil 3, the Kamal Hassan's show. She is the 9th contestant to get evicted from the Bigg Boss Tamil 3 house. Besides Abhirami's elimination from the Bigg Boss Tamil 3 show hosted by Kamal Hassan, there are four more contestants that are facing this eviction game. These contestants are Mugen, Madhumitha, Kavin, and Losliya.
Abhirami being the less active n the show lacks enthusiasm for the activities that are performed in the Bigg Boss house and acts as an emotional person that's always crying, which is the reason for her eviction from the show. The audience was very upset from her behavior of a too much emotional dramatic person and this very thing had become her drawback even. This type of attitude has brought a downfall to her performance level every time.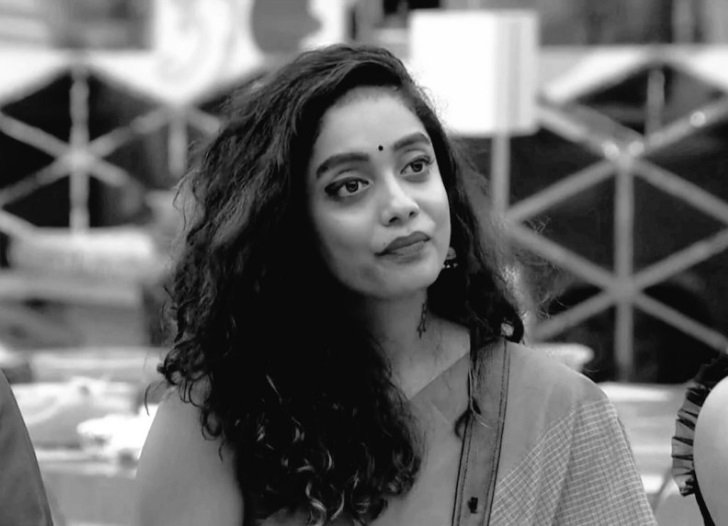 A friendship developed too, between Abhirami, Vanitha, Sherin, and Shakshi in their earlier weeks of the Bigg Boss Tamil 3. But gradually, Abhirami started staying away from them and got closer to Losliya. At a point too, she fell for Mugen and developed feelings which led to her dip in focusing for the activities ahead in the show.
After the eviction, however, Abhirami looked happy and didn't show any sign of disappointment while leaving the Bigg Boss house. Rather, she was having a broad smile on her face after a talk with the host of the show, Kamal Hassan. And this really impressed her fans.
Reactions on Abhirami's Eviction
Abhirami Venkatacham was a favorite contestant for many people and they are really going to miss her in the Bigg Boss Tamil as per the comments and reports that are spreading out there. Moreover, people praised Abhirami being walking out of the Bigg boss show with the head held high and a smile is the sign of boldness and beauty. It even said that it's a beautiful way to bid adieu to the show who taught her so much, that painted her in different shades.
Abhirami, a girl who had a bunch of talents but failed to outcaste in between her overacts in search of useless things made Sandeep a fan of her say that its that her overacting? Those 15 minutes of overacting can't even be made Losliya stand in front of her. Moreover, everyone wished her luck for her future ahead, although, there were people who reacted in negative ways.
They didn't like her too much dramatic attitude. They found her overacting every time with this attitude. Some even said that she has the most irritating face and voice. She was a crowd charmer at points and could have really won the hearts of people if, she wasn't having been going behind a love drama.
She seemed happy and relieved while leaving the show. Being free for getting evicted out of the show, she really had that kind of smile which made her felt independent again.