Former Bigg Boss contestant Vanitha gets invited on the sets of Bigg Boss Tamil, that is, to stay in the hotel until the luxury task ends. The Bigg Boss Tamil season 3 is being run on the 50th episode now.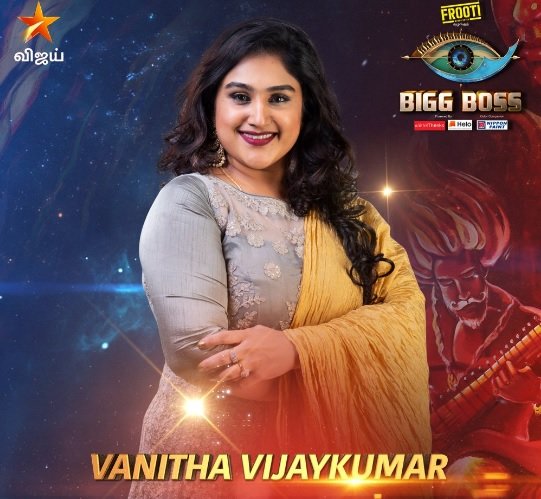 On the day 50th day of Bigg Boss, the captain of the Bigg Boss house, Sandy was asked to come up with the difficulties or challenges faced by the housemates. Sandy was even said to negotiate the mistakes and rectify the possibilities in future days with the up-level efforts.
As this week Kasturi was out of the eviction list, other housemates were told to nominate rest of the house members for nominations. This week's eviction list included the names of Abirami, Mugen, Kavin, Losliya & Madhumitha.
In the second part of the show, some members were seen discussing the Abirami – Mugen sequel. Rest of the part included the stills from the upcoming movie of Kamal Hassan's which, delighted the house members. The stills were from Indian 2, his forthcoming film. And yesterday it was also the 60th year of the contributions towards the film industry by Kamal Hassan.
Kasturi was also part of the movie. She says that, for starters like her, artists like Kamal Hassan give a boost to their role and the career. House members spoke a few words each in the respect of appreciation for Kamal Hassan.  All the posts were read out to mark t6he respect.
The Weekly Luxury Task in the Bigg Boss House
This week's Luxury task in Bigg Boss House has turned the sets to a hotel, where duties were divided equally to assigned members. Cheran was assigned as a manager, Madhumitha was allotted the chef's duty and Sherin was given the Spa area.  Room service duties are for Tharsan, Abirami, and Kasturi. Sandy and Kavin were asked to do the housekeeping. For entertainment purpose, Losliya and Mugen were kept.
Former Bigg Boss contestant will be on the house turned hotel till the luxury task ends. Vanitha was invited as a guest to stay there in the hotel. After her arrival, she gave few advisory pieces to the contestants of the consequences they will face for their actions. She told about both the bad and good sides to the actions.
They were notified about the advice they would be receiving in situations, they will be created each time they react on certain emotions. About, how to control emotions and act wisely towards your goal. She reminded them carefully. The next episode will see a fight coming up between Abirami and Mugen.
Apart from the above, some spicy delights will be occurring tonight with the guest Vanitha in the Bigg Boss house. Keeping the gaze stronger for viewers, some real spice would bee cooked for all.