Bigg Boss: This week Bigg Boss elimination result has been revealed online today evening. Oviya Helen, Vaiyapuri, and Julie got nominated for this week eviction. Bigg Boss official voting poll was ended on Friday midnight around 12 PM. We at Cover365 conducted a Bigg Boss private poll and in our website, Oviya got so much support from people and Vaiyapuri next in the list. Julie got very least number of votes on our website.
The same result reflected in the official voting poll of Bigg Boss. After week 6, Julie got eliminated from the Bigg Boss house. This will be telecasted on this Sunday episode and Kamal sir will announce the result tomorrow. But we found Julie got eliminated from the Bigg Boss show and we got her image standing outside the house.
Oviya also got eliminated from the house due to illness. She was mentally pressured due to her break up with Arav. This affected her deeply and Bigg Boss doctor consulted her for 3 times and asked Bigg Boss to eliminate her from the house as she is not well. So she got eliminated on Friday and Julie got eliminated on Saturday.
In our Cover365 Bigg Boss Vote, Oviya Helen got 80% of total votes and Vaiyapuri sir got 17% votes. Juliana just got 3% votes and here is the result of her performance 😀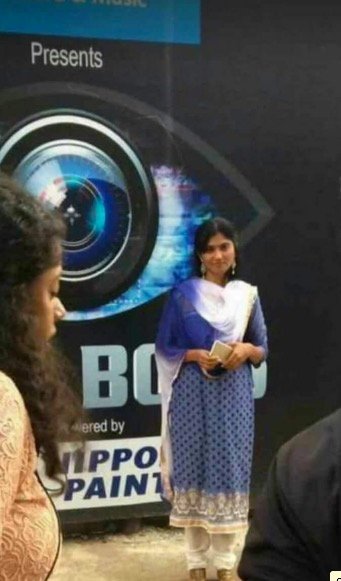 The above image is taken this Saturday in the Bigg Boss set, where Julie got eliminated from the house came out to talk with Kamal sir.
Bigg Boss Evictions
In the week 1, Ananya got eliminated from the house and Shri also got eliminated due to his illness. In week 2, Ganja Karuppu got eliminated from the house and Bharani also got eliminated as he violated house rules. In the week 3, Harthi got eliminated from the house. In the week 4, Namitha got eliminated from the house and there is no eviction on Week 5. This Week 6, Oviya got eliminated from the house due to illness and Julie got eliminated officially from the house by getting minimum people support.
Eliminations in Bigg Boss is based on people support. The contestants are asked to nominate three people from the house and these Bigg Boss asks people to poll their vote to their favorite contestant. Each one can poll 50 votes per day. The voting process ends on Friday 12 PM and the one who gets more votes will be in the house and one who gets fewer votes will get eliminated from the house.
Julie about Oviya
Bindhu asked about Oviya to Julie inside the house. Julie replied to her that she will call Oviya to her home and want to maintain a good relationship with her. Last week, Julie and Oviya had a big clash inside the house. This is where things started getting worse in Oviya's end.
Overview of Today's Bigg Boss Episode
Oviya got eliminated from the house due to mental health issues.
Kamal interviewed Oviya and at the end, she still loves Arav.
Kamal asked each contestant to enter into the confession room and asked about what they feel inside the house and also asked about many things about other contestants and Oviya.
Week 6 Elimination result will be revealed tomorrow. But we got result updates and Julie will be eliminated in this eviction.
Gayathri still blaming Oviya saying she crossed the line on Arav's issue.
Wild Card Entry Bigg Boss
After the elimination of Oviya, Vijay TV knows that TRP of the show will be decreased as many people watched the show only for Oviya. There will be a tremendous drop in the TRP this coming week and Vijay TV is talking with Oviya to make an arrangement of Wild Card entry after two weeks to make the show more interesting like before. It will be officially confirmed soon by Kamal sir.
People lost interest in Bigg Boss
After Oviya's elimination, People started trending #NoOviyaNoBiggBoss hashtag in Facebook and Twitter. This will really create a big impact in the show as they missed their main and most popular contestant. Some stated in their profiles that this is the last day they are going to watch the show. After Oviya's elimination around 50% people will miss this show without anydoubt. So, a wild card entry for Oviya will be the most awaited turning point of this show which may happen soon as per our predictions.