Happy Diwali 2017 Wishes in Telugu for WhatsApp & FB: Diwali is the Indian Festival of Lights which have many historical stories behind the celebration of this festival. On this day, all the houses, shops, and important public places are decorated with a small earthenware oil lamps, it is known as diyas (Mrdulasthi nune dipalu). People of Hindu believing that this is the right time to start a new business by getting a blessing from the god of wealth, Lakshmi. Other existed businessmen will be prayed to the goddess for a successful year. Also, as a belief, the goddess of wealth, Lakshmi will enter into every home by using the rows of lighted lamps in front of the house.
There are many other reasons for this question, 'Why is Diwali Celebrated', based on the location in India. People in the different region are having the Story of Diwali as many as above one. In Nepal, Diwali commemorates the victory of Lord Krishna over the demon king Narakaasura. The answer for 'Why We Celebrate Diwali' is different in Bengal as it is associated with the goddess Kali.
Read about Happy Diwali 2017 Wishes, Greetings, Quotes, Messages, Images for WhatsApp & FB Status
Overall, this is the Hindu festival of lights over darkness, the victory of good over evil, and the knowledge over ignorance. Here we have varieties of Best Diwali Wishes, Quotes on Diwali, Greeting Cards for Diwali, Happy Diwali Messages in Telugu, Happy Diwali Sweets Images with Messages and wishes, and much more.
Happy Diwali 2017 Wishes, Quotes, Greetings, Messages in Telugu
In Telugu states also, Hindus Celebrates this Festival in the feeling of happiness for the Death of Narakasura which is also called as Naraka Chathurdasi. All the state people in India are mostly celebrating this festival on the evening by using crackers, wishing other via gifts, messages, sweets, greeting cards and more. Especially, Deepavali is the most favorite festival for kids they enjoy without boundaries. Also, some group of people in the apartments, colony are celebrated with small gang events by organizing the traditional dance, singing competitions, and others.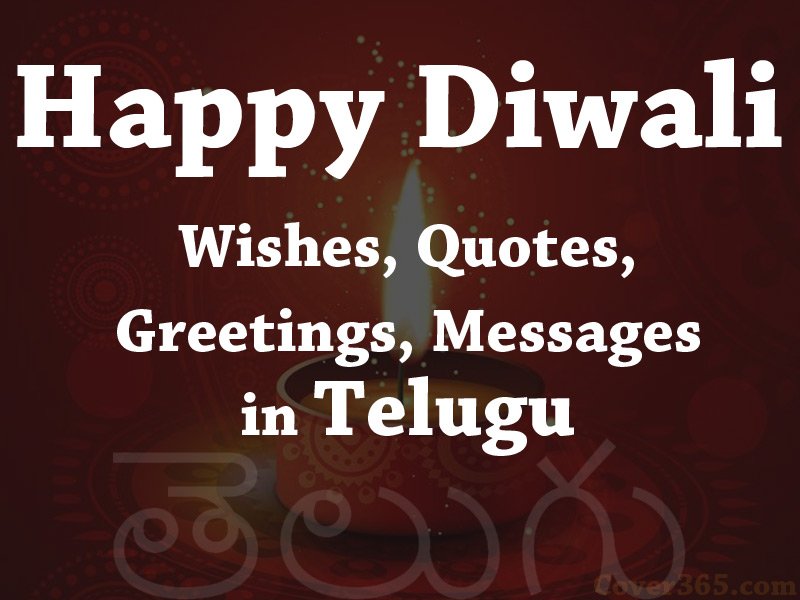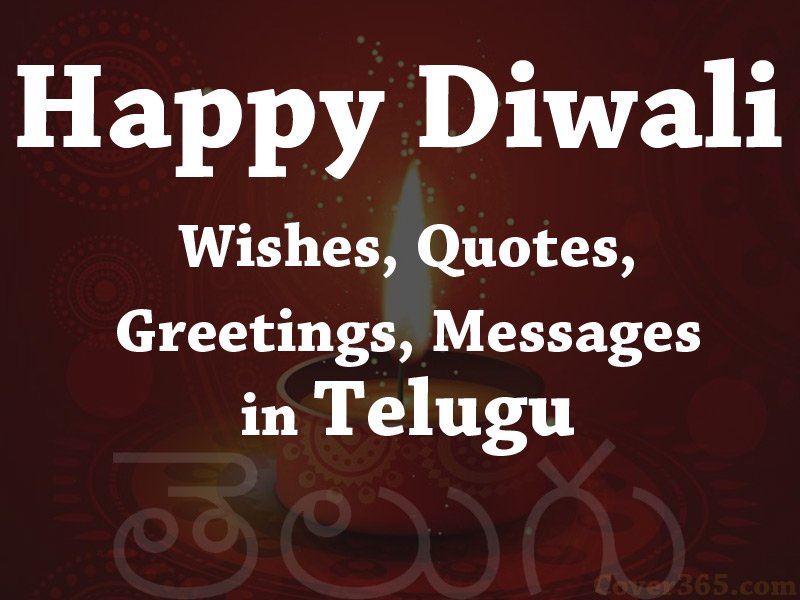 Mee inta velagaali Deepaawali kaantulu
Mee pedavula pai viriyaali chirunavvulu
Mee chenta vundaali dhana kanaka raasulu
Meeku andistunnaanu Diwali subhaakaankshalu!
—
Intintaa DEEPAVALI ..
choo chorry ..
yedhoo kavitha start cheyyabooyanu but raavadam leedu ..
—
Deepawali subhakankshalu!
—
Eee depavali to mee jiveetalu veluguku punadikavali. mee aptula jiveetalu kuda rangula vinduga vundalani akamkshisthunna.
—
Deepala velugu vale jeevithaalu bright ga undalani deepavali shubhakankshalu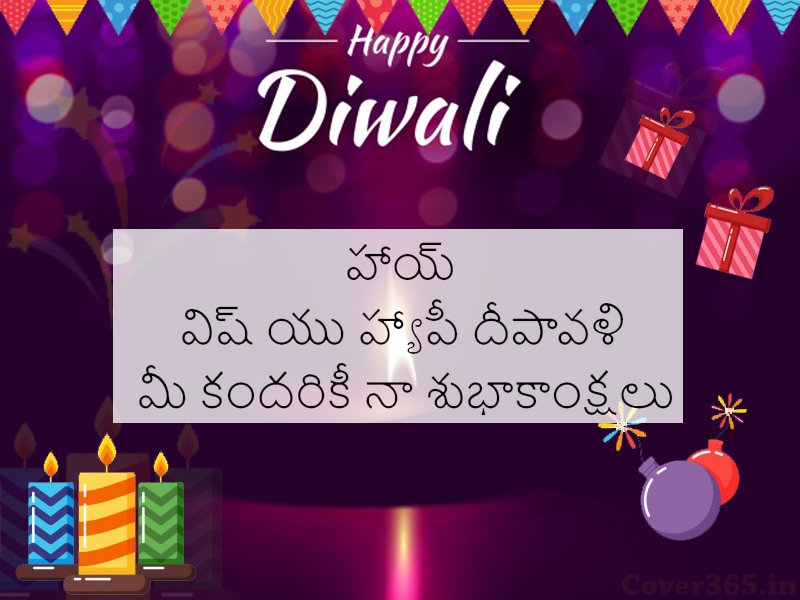 In English:
Hi
Wish You Happy Diwali
My best wishes for all of you
—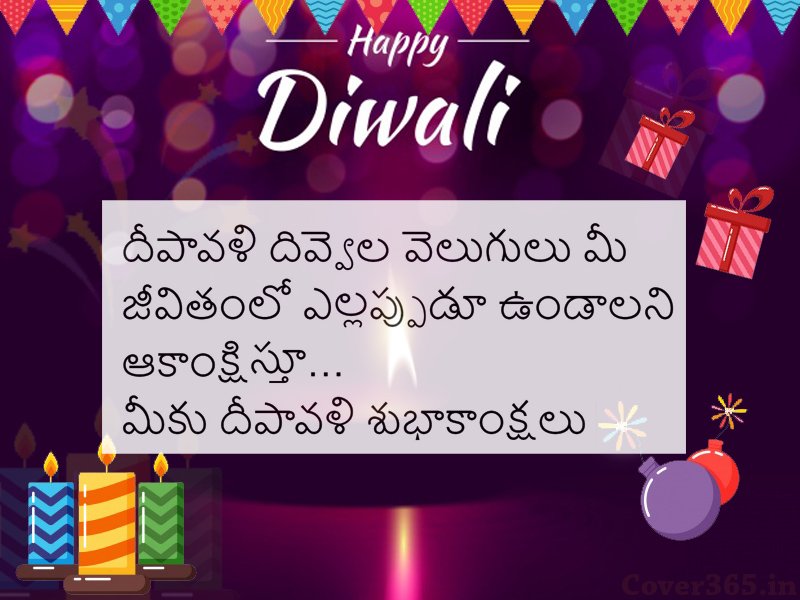 In English: Diwali is coming to you in the end of your life … ???? Diwali wishes to you ????
—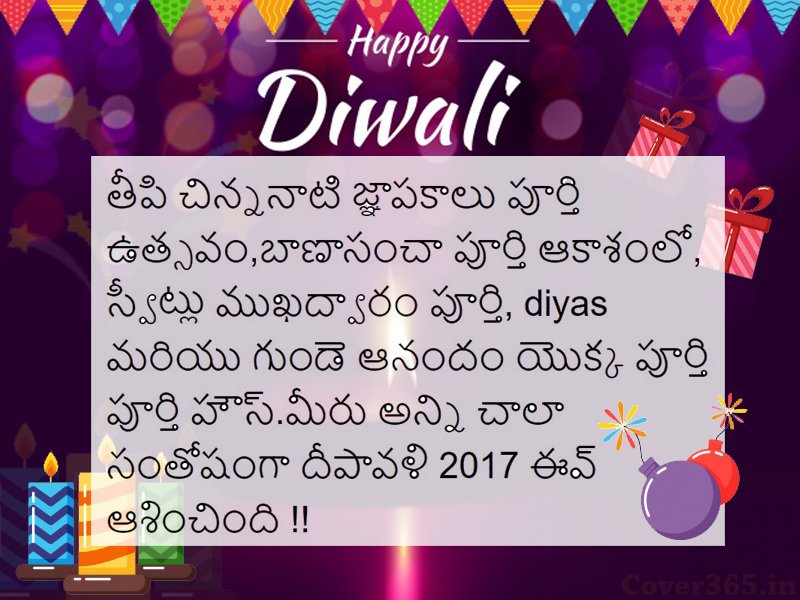 In English:
A full of sweet childhood memories, full fire in fireworks, full of sweets, full of diyas and heart happy. You all are very happy Diwali 2017 Eve wishing !!
—
Mee inta velagaali Deepaawali kaantuluMee pedavula pai viriyaali chirunavvuluMee chenta vundaali dhana kanaka raasuluMeeku andistunnaanu Diwali subhaakaankshalu!Intintaa Diwali 2017…
—
Mee jeevitam ROCKET anta ettuki edagaala..Mee kalalu FLOWER POT la vikasinchaalani..Mee inta navvulu BHOO CHAKRA la tiragaalani..Mee bhaadhalanni LAXMI BOMB la pelaalani..Koerutoo….DIWALI wishes to u all….
—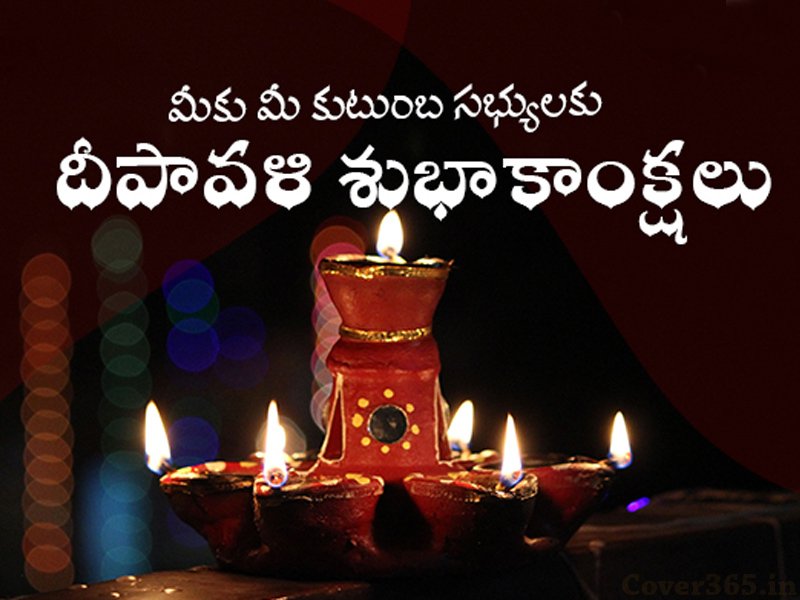 Happy Diwali 2017 Telugu Greetings
By cleaning the house, wearing new clothes, decorating the house, offices, and temples with the lights and flowers, lighting the diyas on both inside and outside of the house and offices are the regular procedure of this festival. Dhanteras is the first-day celebration, a Naraka Chaturdashi is the second day, and Diwali is the third day. Let's check the Happy Diwali Greetings in Telugu.
Check out Happy Diwali Wishes in Hindi
Share all these Best and Bright Festival Telugu Deepavali Messages Online, Telugu Diwali Greetings, and Quotes Wallpapers, Deepavali Telugu wallpapers, Most Popular Telugu Diwali Greetings, Best 2017 Telugu Diwali Wishes Quotes, Deepavali Wishes Messages in the Telugu Language to Friends and Falimy.