Chief of Air Staff, BS Dhanoa said, IAF is always alert across the INDO-PAK BORDER in order to stop any misleads by Pakistan. Chief Dhanoa also warns Pakistan for any such mischief in the future.
Words by Army Chief to Pakistan, the IAF
After a "bloody nose" warning from Army Chief to Pakistan, the IAF chief Dhanoa too sent a warning to the neighboring country Pakistan, on Tuesday. The Chief of Air Staff informs them that, IAF is always on alert even after the armies protecting across the border.
The soldiers of India are extra careful with any misleading activities taking place in the border if any.  Even if, there is no problem the Air Marshals are extra alert on the border for the safety of civilian aircraft, which crosses the border in every few minutes or hour.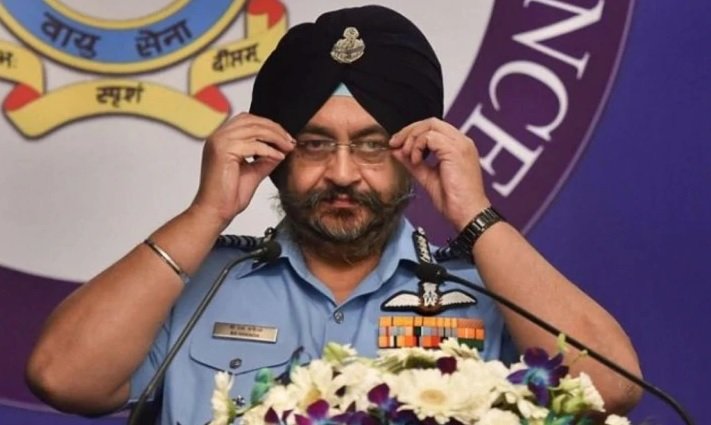 There is always an eagle's eye on the border for any suspicious enemy movements from the border. They always need to handle the situations beforehand above the ground so that soldier in the ground doesn't have to face difficulties in the border.
Previously, Army Chief General Bipin Rawat, warned Pakistan of a bloodied nose if they chose to go for another war with India. He advised them to stay in harmony and shut their misadventures and stop repeating them to prevent any such big border wars across both the nations.
Launch of Indigenous Equipment
On Tuesday, the book Indigenisation efforts of defense equipment by services launch was led by IAF Chief Marshal BS Dhanoa and Union Defence Minister Rajnath Singh at a seminar of Indian Airforce for Indigenisation plans.
In the seminar, Dhanoa spoke of Indigenously developed equipment which is a technology and will replace the obsolete-war fighting equipment. If this equipment comes into being then, there will be no need of import of any other defense equipment from the abroad.
All the technology-based equipment would be made available to us at our hands in an instant. The indigenously developed equipment will be then available at the ease of sight in our own country. And no more, we need to depend on other countries for the war equipment.
At the seminar, our Union Defence Minister Rajnath Singh who was also present stated that Indian Air Force is the most technically advanced and developed force who has the extremely high potential to defeat the enemies.
During the last attack on the neighboring country, the airstrike by them was immensely firm and strong enough to break the enemies from within. The immense reach of their ability and the vision of mind was tremendously shown in their work.
In the last week's meeting, Minister Rajnath Singh approved the formation of a committee under the chairmanship of Director General (Acquisition) in order to analyze the Defence Procurement Procedure (DPP) 2016 and Defence Procurement Manual (DPM) 2009. This committee governed by the general is to develop the program and work towards the 'Make In India' program.