The most awaited night for all those techies out there is finally here. This year's iPhone launch event was held for the first time in the newly constructed 1000 seat auditorium in the space ship campus- Apple Park, Cupertino, California. Unlike previous years, this year Apple unveiled 5 new products, iPhone X, iPhone 8 and 8 plus, upgraded apple watch and a 4K Apple TV. Last night, Apple proved that it's still the name to reckon with in the smartphone market and cemented its dominance over the field.
The biggest reveal of the night iPhone X was introduced by CEO Tim Cook with a lot of big surprises. The iPhone X has scraped off the home screen button and also the fingerprint scanner. Instead, it comes with a facial recognition software "Face ID" which is said to be more secure than the "Touch ID". Twitteratis soon took to the twitter to mourn its loss with RIP Home button tweets. Face ID reportedly recognizes the user's face even when the hairstyle is changed or when wearing glasses. Also, Face ID comes with 'animoji', which is a type of animated emoji that can be controlled using the user's own facial expression. Priced at a whopping 999 $, iPhone X is sure to take the industry by storm.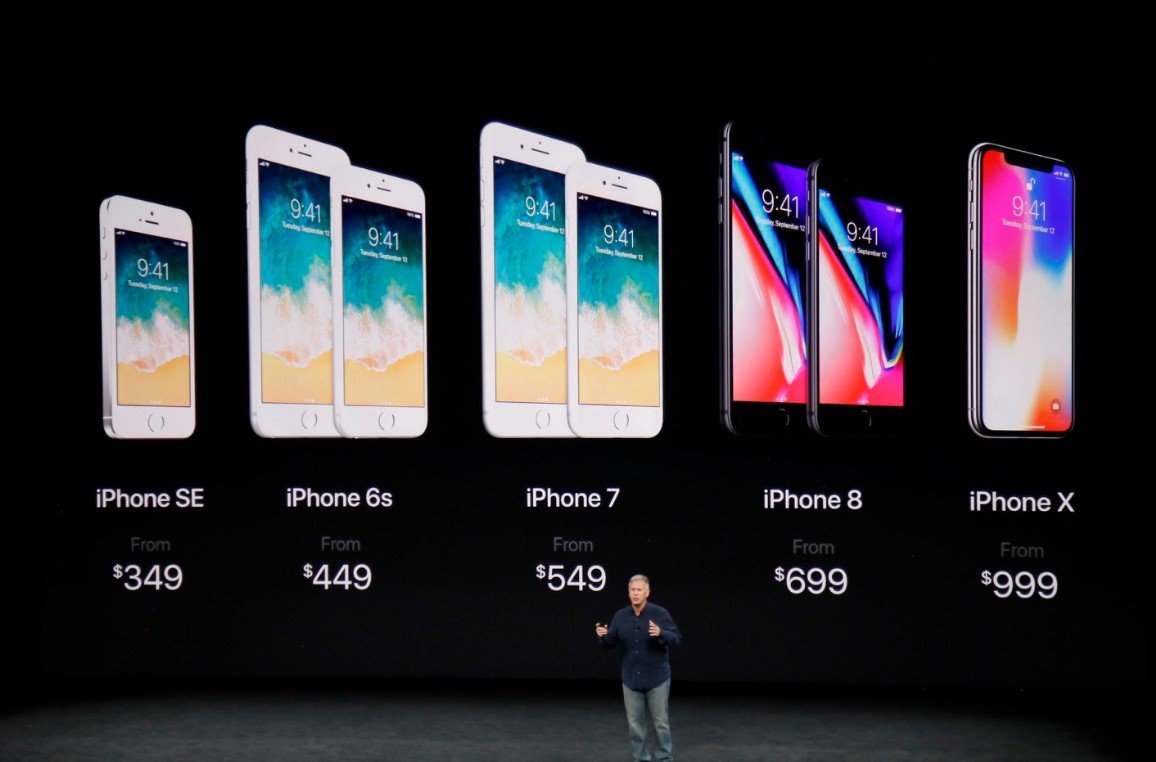 Also, iPhone 8 and 8 Plus were revealed which has more powerful processor and an upgraded camera. They were also able to charge wirelessly using Qi standard charging pad. The phones also have improved bassier speakers in them. Priced at 699 and 799$, they come in 3 colors including gold.
The upgraded Apple TV was also introduced with its TV streaming box and 4K resolution amid much fan fare. A new version of its smartwatch was also unveiled namely Apple Watch Series 3, which has streaming service Apple Music and enhanced fitness monitor. Also, it has cellular connectivity meaning that the user can take calls without having to pair it with the phone. Unfortunately, it will not be available in India initially.
But all was not well at Cook's camp. This year's iPhone launch event had a few rough patches when the facial recognition software for the iPhone X demo had an embarrassing technical glitch. it failed to recognize Apple executive Craig Federighi' face during the live demo and eventually switching to a backup phone. This reflected on their shares, which fell drastically before leveling up after some time. This undeniably puts silence on all those who questioned Apple's iPhone launch which was marred by leaks earlier this week.
They even paid tribute to Steve Jobs, the man whose dedication drove the brand. They dedicated the theatre to Steve Jobs with Tim Cook saying that Apple would love to have him around. Surprisingly, it was announced that Apple stores will hereafter be referred as 'town squares'. The company's head of retail Angela Ahrendts announced this change. The tech giant once again proved its mettle and in style.