India Vs West Indies: Jasprit Bumrah proved as another pearl for the Indian cricket team. The current ongoing test match series between India and West Indies has been proved a boon for the Indian cricket team and Indian fans as well, from the exceptional performance by Virat Kohli to record-breaking innings by Jasprit Bumrah.
Indian players are witnessing their golden time due to all the hard work and efforts they put on making themselves better. Not just the players the game has now turned into a visual delight for cricket fans also.
Every player has shown the best he can but if it is about picking the best performers then no doubt Virat Kohli and Jasprit Bumrah are in the top. The fact that Bumrah has made a new record is now known to everyone and also made India proud again.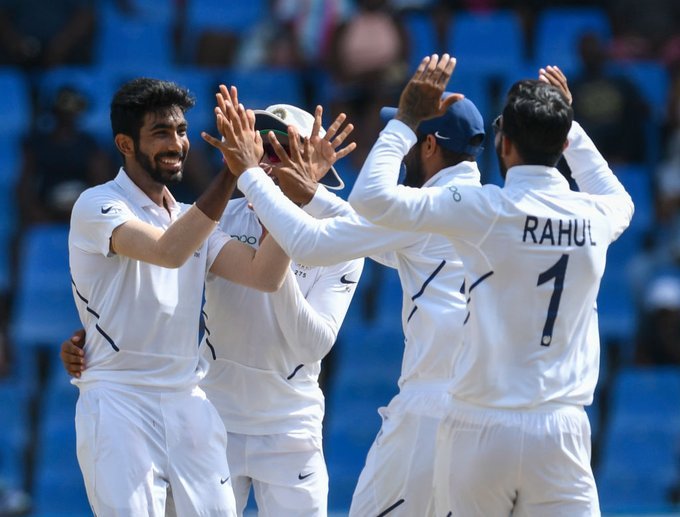 A look at Bumrah's Game
When Bumrah started bowling in the first innings the hesitation due to being in a new ground was evident and could be seen in his bowling. Bumrah somehow managed to keep the first innings in control but the game was getting complicated, all in all, Bumrah's first inning was a rusty one and all this made the Indian fans a little disappointed. But the moment Bumrah got the new ball in the second innings he showed everyone that he had got the thing.
Bumrah delivered an away swinging to Kraigg Brathwaite which made him have a grip in the game. This was followed by a fantastic in-swing to John Campbell which made his stumps a mess.
The game was already getting mesmerizing and it was hard to get away from the screens as Bumrah with his explosive bowling in the send innings destroyed the batting order of West Indies. This was continued and made West Indies stand at a point where the host had five wickets on just seven runs. This clearly demolished the batting side of West Indies and took India a step forward.
The groundbreaking performance by Jasprit Bumrah was not just made India win the match but he also made himself stand in an elite list of players. This list has players who successfully took five wickets of the opponent team and in bargain gave them ten or less than ten runs. Bumrah took five wickets in the second inning and gave only seven runs in exchange.
Jasprit Bumrah did not just break the record but along with this he became the first Asian cricketer to do so and this made the whole nation proud. The other players in the list are four bowlers from Australia, two are from England, South Africa, and West Indies and the bowlers are Vernon Philander, George Lohmann, Ernie Toshack, May, Lawson, Gilligan, Bert Ironmonger, Michael Clarke, Dale Steyn, Kemar Roach.
This season has proved to be a total win-win situation for the Indian cricket team and also made the expectations high.