Jio Prime vs Non Prime Recahrge plans: Reliance Jio prime membership welcome offer ends on 31st March 2017. There are some words from the telecom experts that Jio Prime offer will be extended till June, expecting official announcements to be made on 1st April 2017 (tomorrow). If you are still confused and not convinced to subscribe Jio prime membership, give a read on Jio plan offers for prime membership users and you will find benefits of various Jio prime recharge plans.
Did you ever think what will happen to your Jio sim card if you don't subscribe to Jio prime membership deal and had any idea about jio offers to non prime members? Here is a quick comparision of Jio Prime vs Non Prime plans and non prime recharge offers to decide which suits best for your needs.
Jio Prime vs Non Prime Plans
Jio Prime membership recharge plans
The 2 very popular recharge plans for Jio prime members are Rs.303 and Rs.499. Plan 303 INR per month offers 1GB 4G data per day with unlimited voice calls. After 1GB user will get 128kbps internet speed. Plan 499 INR per month offers 2GB 4G data per day with unlimited voice calls. After 2GB, users will get 128kbps internet speed again. Recharges done before or on 31st March, prime subscribers will get extra 28GB and 56GB internet data respectively for 303 and 499 plans.
Jio Non Prime recharge plans
On the other end, people are still searching for Jio non prime recharge offers and plans as some people feel Rs.303 is much to spend on the internet. Here are the recharge plans for Non prime members.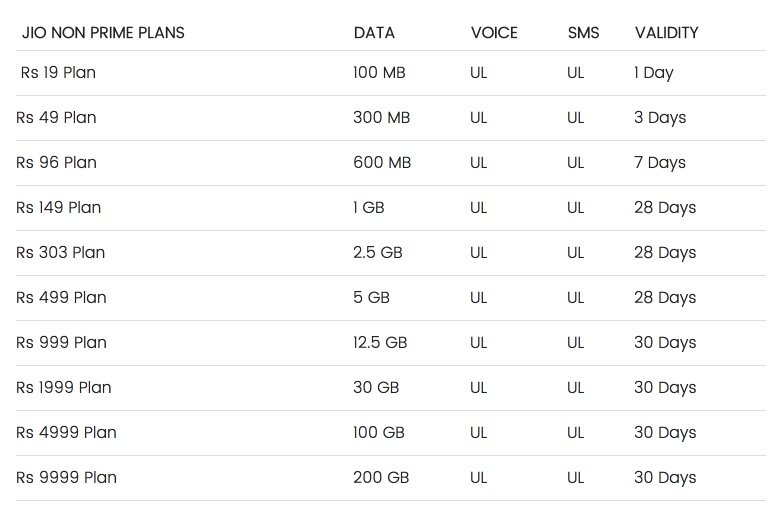 Some highlights of non prime membership plans are, maximum validity of a plan is 30 days, no daily data restrictions like 1GB or 2GB, all the plans includes unlimited voice calls and SMS, all the plans have limited internet data.
If you are an avid internet users, we highly suggest you to subscribe for Jio Prime membership, which costs just Rs.10 per day to enjoy 1GB internet daily with unlimited voice calls and SMS to any network.
JIO Update: Check Jio Summer Surprise Offer – Prime membership date extended as expected.
Stay tuned for more updates on latest Jio news and notifications.