Kuvempu University Result: Kuvempu University is an affiliated university located in Shimoga, Karnataka established in 1987. It has 41 post-graduate Departments of studies in Arts, science, commerce, education and law. It offers 45 Post Graduate Programmes, 4 P.G. Diploma, and one Under Graduate programme.
Kuvempu University Exam Results & Revaluation
Kuvempu University conducts semester wise exams for its students. The exam results are released online for the students on the official website of Kuvempu University. The students can check their results by entering their registration number and date of birth in the fields provided. The results can also be checked at the results portal of Logisys. The results are available in PDF format which can be easily downloaded and printed for future reference.
The Kuvempu University also provides a provision where the students can apply for re-evaluation and re-checking of their answer sheets. The students can submit their re-evaluation/re-checking form along with the prescribed fee to the university. The results of the re-evaluation/re-checking will be released in due course of time.
Kuvempu University Mark Sheet
The University also provides the facility of obtaining the mark-sheets for students who have successfully passed their exams. The mark-sheets can be obtained from the respective departments or from the Examination section of the University.
The Kuvempu University also provides the facility of obtaining the duplicate mark-sheets for those students who have lost their original mark-sheets. The students can apply for the duplicate mark-sheets by submitting the prescribed fee and the necessary documents to the university. The duplicate mark-sheets will be issued to the students in due course of time.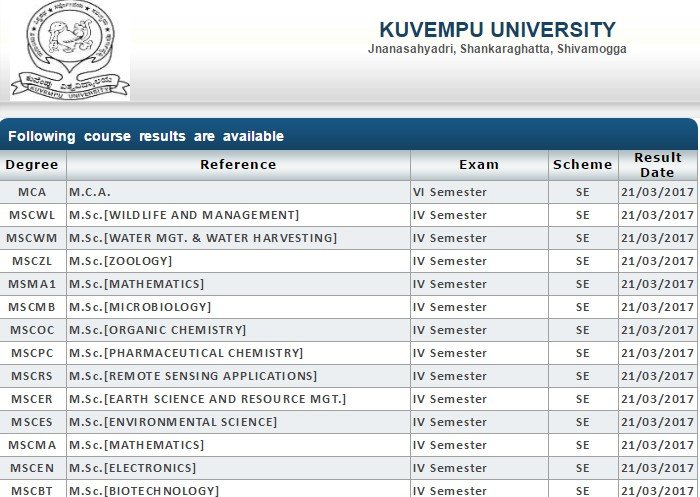 How to Check Kuvempu University Exam Result Online?
Kuvempu University exam result for MA, M.Com, M.Sc, BA, B.Com, BBA, MBA, LLB, LLM, Exam results can be checked online with the help of Laptop or mobile devices. The Kuvempu University has declared their results for some of the courses and the results for remaining courses will be uploaded very soon in the Kuvempu University website. Students can check Kuvempu University result in the website continuously to know more about the result.
Here are the steps to check the Kuvempu University Exam Results:
1. Go to the Kuvempu University Official Website – http://www.kuvempu.ac.in/
2. Enter the required details like the course, year and semester of the exam.
3. Click on the submit button.
4. The result will be displayed on the screen.
5. Take a printout of the result for future reference.
Alternatively, you can also check the results on the below links,
Kuvempu University Results Links– http://72.167.46.92/results/kus/ OR http://results.logisys.net.in/kus/

Kuvempu University Official Website– http://www.kuvempu.ac.in/