Actions speak louder than words, this saying can be seen being prevalent in Kashmir valley where people are advised to leave the valley as soon as possible. The reason might not be clear but the government is definitely up to something big. This step taken by the government made chaos among masses. National Conference leader and former chief minister Omar Abdullah stated the fact on Friday that people staying in Kashmir valley are forced to leave after the advisory by the government.
Omar Abdullah's Tweet said:
"Friends staying in hotels in Gulmarg are being forced to leave. State road transport corporation buses are being deployed to bus people out from Pahalgam and Gulmarg. If there is a threat to the yatra, why is Gulmarg being emptied?"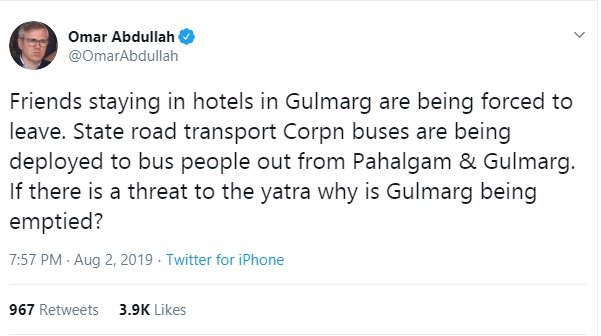 That clearly says that people are forced to leave those hotels and even the public transport buses are made to bus people out from Gulmarg and Pahalgam. All the chaos started after the authorities issued an advisory for people to leave Kashmir valley "as soon as possible " the advisory is up to Indian Army's claim that says that the army has got confirmation about terrorist threats on Amaranth Yatra.
This recent incident not only did spread chaos among masses but also on social media and especially on Twitter. Former chief minister Mehbooba Mufti said that the situation of the valley has been that of complete mess and is the government of India only concerned about the safety of tourists and not the people of the valley.
Mehbooba tweeted, "Complete chaos on the streets of Srinagar. People rushing to ATMs, petrol pumps and stocking up on essential supplies. Is GOI (Government of India) only concerned about the safety of yatris while Kashmiris have been left to their own devices?"
Omar Abdullah also said that he was in a complete state of confusion and wanted to know the facts about the current situation but even after his leadership for 6 former years he was not being informed about anything clearly.
Also earlier in the day addressing press the Army said that on the route to Amarnath Yatra they have found a landmine and a sniper rifle with Pakistani markings on it. The army also claimed that they have confirmed terrorist threats with support of the Pakistani Army and that is why people are advised to leave the valley on an urgent basis.
Not just this Chaos, there has also been heavy troop building in Kashmir. The first 10,000 troops of the paramilitary were made to rush to Kashmir and after that 280 companies of security forces were deployed along with Indian Air force aircraft. This made people think if the government of planning to scrap article 35A from Kashmir which provides it special power of the state.
But later on, the Jammu and Kashmir governor cleared that they are not planning to do any change with the article 35A and also that people don't need to worry.