Balaji Tharaneetharan's directional film with Vijay Sethupathi as a lead actor who appearing in three looks, as per the reports. For an aged look of Vijay in this film, the Hollywood technician Kevin Haney has been roped. It is a reunion for the male lead and director after a few years of Naduvula Konjam Pakkatha Kanom.
After the big success of Oru Nalla Naal Paathu Solren, Junga, Chekka Chivantha Vaanam and 96 and it is time for his next big hit film Seethakaathi which is 25th film in his career.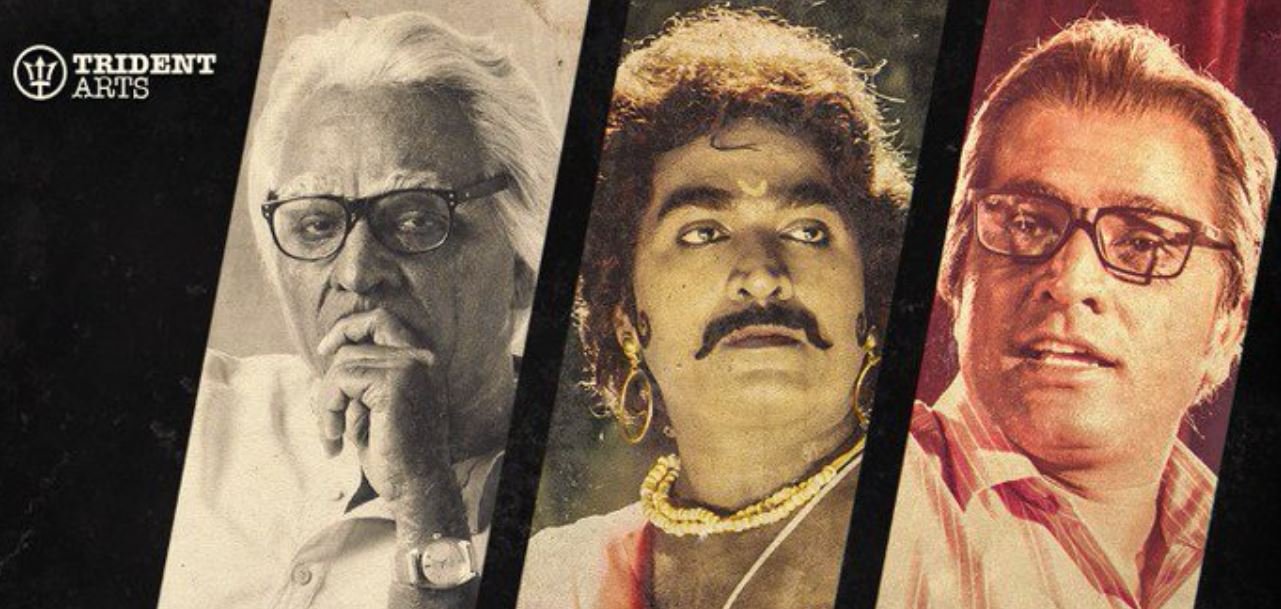 Director Balaji chooses Govind Vasantha for music, Saraskanth TK as cinematographer and R Govindraj as editor for his movie. In the film Naduvula Konjam Pakkatha Kanom, 96 movie director was worked as a cinematographer and Balaji Tharaneetharan as director. Those two men will back again with Vijay Sethupathi and presenting other big hits in 2018.
Vijay Sethupathi is the only actor in Kollywood who appearing on the big screen frequently and also giving the biggest hit of all. He will also appear in January 2019 on Superstar Rajinikanth's Peeta as Villan in Karthik Subbaraj, who made a hit film with Sethupathi on Pizza film.
Vijay is not only the actor who received the appreciations from the public, but also from critics as good on all his recent films consistently.
In Seethakaathi, he will appear on screen as a seventy-five-year-old drama artist. The main plot of the story is that the art and artists are immortal and their works will be spoken even after their deaths.
Archana, Mahendran, Ramya Nambeesan, Gayathrie, Parvathy Nair, and Bharathi Raja in the cast.
Reviews from Social Media by Critics after a special show for press:
This film will hit the theaters on December 20, the makers have arranged the press show on three days before its release. Check out some critics' tweet reviews here below:
Kaushik LM: #Seethakaathi -Soulful, passionate attempt by #BalajiTharaneetharan @PassionStudios_ @VijaySethuOffl and the team. They've approached the film like art, & also kept it entertaining. Blissful score by @govind_vasantha . Has generous comedy, grt performances & engaging emotions.
#Seethakaathi 2nd half – Extraordinary debut by Sunil (@actor_vaibhav's brother). It's tough to play such a part, variety comedy. Hatsoff to #BalajiTharaneetharan for an audacious, experimental attempt banking on a wacky, outlandish concept. @VijaySethuOffl deserves a salute too.
Sathish Kumar M: #Seethakathi is a perfect tribute to legends of Stage Drama for 170 minutes. People who love stage drama will like Vijay Sethupathi scenes. Actors Raj Kumar & Sunil have meaty role and have performed well.
Avinash Ramachandran: Watched #Seethakaathi last evening
There are a lot of things I want to say about the film, but I'll wait for the release. Aana onnu, @govind_vasantha ku #96TheMovie verum trailer dhaan. And there is no actor like @VijaySethuOffl in Tamil cinema, at the moment
Sridevi sreedhar: #Seethakaathi gets unanimous good opinion from media after the press show. Music, Acting, Emotional quotient and humour ???? . A big thumbs up to the entire team #BalajiTharaneetharan @VijaySethuOffl @govind_vasantha
Ramesh Bala: #Seethakaathi [4/5] : A unique story idea.. Executed well..
@VijaySethuOffl and the promos r calling cards..
But the movie like Dir 's #NKPK is a quirky comedy..
@VijaySethuOffl has "lived" his role..
The movie has lot to offer.. A clean fun, humour movie.. Don't miss it!
#Seethakaathi 1st Half : An unique story idea.. What we saw in trailer is jus a tease..
Movie is much more than that.. @VijaySethuOffl has lived his role..
Lot of humour..
Sidhu: #Seethakaathi: @govind_vasantha – what a splendid job. His excellent score complements the tone of the film and is a sign of how a composer can prove his versatility to the fullest in an experimental script. Every film of his hereon will be much sought-out!
#Seethakaathi: Balaji Tharaneetharan scores big time by mixing quirky humour with the whacky and emotional backdrop of the film. Just like dramas, he makes use of elaborate, 20-minute sequences to deliver important parts of his story. Fresh and smart narrative pattern!
#Seethakaathi: Wonderful. A brave and honest shot at bringing together a variety of genres in a single film, and still making it enjoyable to the audience. Solid writing, great casting and a superb cinematic experience on the whole!
#Seethakaathi Interval: Hugely engrossing. An experimental yet commercial attempt that is a mix of many genres, packed with surprises. #VijaySethupathi is impressive but the real hero here is @govind_vasantha with his terrific score!
Haricharan Pudipeddi: #VijaySethupathi continues to amaze with his choice of scripts and #Seethakaathi is a film he can really be proud of. It's quirky and emotional; experimental and masses-friendly. Also, @govind_vasantha's score is the film's biggest highlight.
Absolutely loved #Seethakaathi, which works beautifully as a meta film on art, stardom and fandom. Quite an experimental attempt within the commercial space but is equally fun.
Raisa Nasreen: #Seethakathi: quite different, very interesting plot that keeps you engaged. Haven't seen a story such as this in recent times. Liked the scenes of meta-inside-meta!
Would recommend people to watch the brave, interesting and fun film to know what they think. #seethakathi