Bigg Boss Tamil Vote: The Bigg Boss in Tamil has been successfully reached its 6th week today and the elimination process has been already started. The contestants who got nominated this week are Oviya, Julie, and Vaiyapuri. The Bigg Boss Tamil fans can poll their Bigg Boss vote for their favorite contestant and save them from the Week 6 elimination.
Earlier this week, in Monday's episode, nomination process was started. Bigg Boss asked contestants to nominate 2 contestants for this week elimination. Oviya got maximum votes for the nomination, among the 10 contestants including Bindhu Madhavi who got inside the house this week, 7 nominated Oviya for this week elimination. Julie got a second big number of votes for the elimination. Actor Vaiyapuri was already in the direct elimination after yesterday's task.
Update, 3rd August Bigg Boss Episode: In today's episode, Arav asked apologize to Oviya for his yesterday's activity. Oviya is back to the form in the house and always she will get people support for sure due to her original character.
Update, 2nd August Bigg Boss Episode: Oviya got disappointed with Arav after a mouth clash between the two. She called Arav to talk in private and Arav refused to talk with her alone. This looks like again contestants are targeting Oviya. Hopefully, she won't lose any love from TN people and still 2 days left for online voting. Please participate in Bigg Boss Vote private Poll by Cover365.
Update, 1st August Bigg Boss Episode: In this episode, Bigg Boss Oviya's character was shown upside down. This time contestants, as well as Vijay TV, cornered Oviya showing some bad face of Oviya, we guess this is just an experiment to see how her votes are being split between Julie and Vaiyapuri. Hopefully, single episode can't make her or decide her as a wrong minded person. Still, Oviya is the one who already got a huge number of votes in a private poll and Vaiyapuri standing in the second position. So Julie will be the one to be out as per today's update as she got a minimum number of votes. Cover365 Private poll for Bigg Boss vote will be available tomorrow.
Update, 31st July Bigg Boss Episode: After this episode, still Oviya is on track and never involved in any issues. But Julie failed to impress as she said to Gayathri that she thought she will not get nominated for elimination as she was good that whole week. Vaiyapuri sir also not getting involved in any issues. So, Julie will be the one who will get eliminated as of 31st June. Let's wait for August Bigg Boss episode and analyze who will get the least vote from the people.
Bigg Boss Vote and Nomination Process – Each week a contestant can nominate 2 other contestants to eliminate from the Bigg Boss house. The two people who get a number of votes from other contestants will be nominated for the elimination. People need to vote to eliminate the contestant. The one who gets a minimum number of votes will get eliminated from the House.
Bigg Boss Tamil Eliminations So far
The contestants who got eliminated are as follows,
Week 1 – Anuya, Shri
Wek 2 – Ganja Karuppu, Bharani
Week 3 – Harthi
Week 4 – Namitha
Week 5 – No Eviction
Wild Card Entry Bindhu Madhavi
Since 2 people were eliminated in the first two weeks, in house mates strength became down and this will also lead to people losing their interest in watching the Bigg Boss. So, Actress Bindhu Madhavi got entered into the Bigg Boss House as a wild card contestant this Sunday. It looks like she will become a big competitor for Oviya. After her entry, some fans started a campaign named BindhuArmy which is similar to OviyaArmy.
Who are in Bigg Boss Tamil Elimination and Why they were cornered?
As we said earlier, Week 6 nominees of Bigg Boss Tamil are Oviya, Julie and Vaiyapuri. Here are some of the reason and analytics of these contestants in their past week.
Oviya: In this Bigg Boss Tamil first season, Oviya got nominated for the elimination for the fifth consecutive time. She is the only contestant who is behaving with her true character. She got saved for the past four weeks, She also got a huge number of fans in the name of Oviya Army and SaveOviya fan club. So without any doubt, she is going to get saved this week again. If you love her character and activities in the Bigg Boss, you can poll your vote to her. Check why you need to Save Oviya here.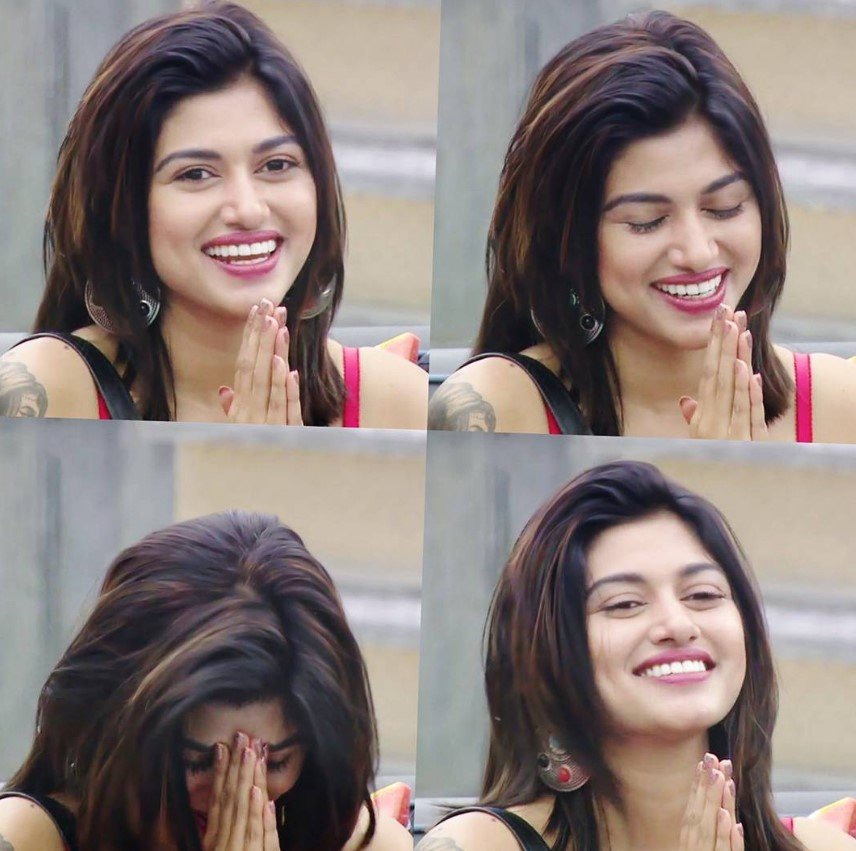 Julie: One of the worst characters in this Bigg Boss Tamil, she is getting nominated for the second time. Julie is acting inside the house based on the situation and her character is just irritating every fan. If you want to eliminate her, you can poll vote to other contestants.
Julie got caught cheating couple last week. She said Oviya triggered her to talk bad about Gayathri and Namitha. But after checking the video, it is Julie herself who talked bad about other people and Oviya just tried to calm down her. After this episode, she got criticized by many people for her cheap activity. Most probably people will eliminate Julie from the house this week as people don't want to see such characters in their life.
Vaiyapuri: Actor Vaiyapuri was nominated for the direct elimination this week. During the task, the contestants are asked to save one contestant and nominate one contestant for the elimination. Snehan got more votes to get save in the Bigg Boss nomination and Vaiyapuri got more votes for direct domination. If you want to save Vaiyapuri, poll your vote to him.
Bigg Boss Vote Rule: The more votes contestants get, they will be saved from the elimination. So poll your Bigg Boss Tamil vote online to save your favorite contestants.
How to Poll Bigg Boss Vote via Online and Missed Call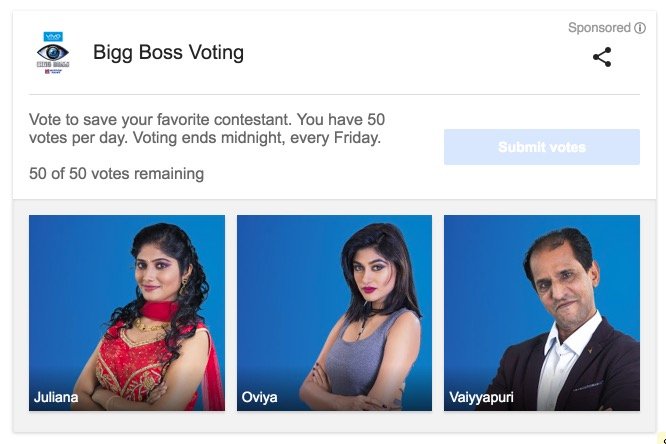 Visit Google.com and search for 'Bigg Boss Vote' or 'Bigg Boss Tamil Vote', and a poll will be shown as sponsored search result. Alternatively, Bigg Boss Tamil Vote can be voted online via the below poll,
Click Here to Vote Online.
Bigg Boss Vote (Missed Call Number)
The fans can also poll their Bigg Boss Tamil vote via missed call. The vote for Oviya, Vote for Julie and Vote for Vaiyapuri missed call numbers updated.
Vote for Oviya Missed Call Number -7210122310
Vote for Juliana Missed Call Number -7210122308
Vote for Vaiyapuri Missed Call Number -7210122314
Bigg Boss Show Official History
Initially, the show was started in Hindia and got a huge success and its own audience. The Bigg Boss has already reached its 10 seasons in Hindi, and after this big hit, it is now moved to other languages in India targeting Tamil, Telugu, Malayalam. Bigg Boss Tamil was hosted by Kamal Hasan. Kamal will mate house mates on every Saturday and Sunday. The elimination result will be announced every Sunday.
Poll your vote and comment who wanted to get eliminated this week from the Bigg Boss house.